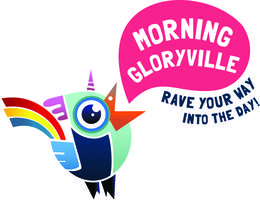 Morning Gloryville is the most colourful event you've probably never heard of (because you were asleep, like normal humans). My first experience of the natural-high rave took place sometime last Winter. Originally named Morning Glory (oo-er), it was founded in East London in 2013 with the intention of being a sober, drug-free morning dance party, designed to be "fun…without the alcohol" and an alternative to the morning gym. Since then it's evolved into a global movement empowering early birds in 14 cities from Munich to Melbourne to "rave your way into the day!" Notable DJs have included Fatboy Slim and Basement Jaxx.
I'd somewhat already defeated the object of the event, staying awake all night rather than my 3am bedtime to make sure I actually showed up. In and haze of sleep deprivation and Red Bull, I donned my rainbow poncho and set off for Constellations. Unsure where the Baltic Triangle's snazziest new venue was – I'd never been in this part of town sober – I was guided by electronic music through the venue's gorgeous beer garden (no beer in sight though, oh woe).
I hadn't actually looked into the event much, just going along to perform with LED lights as part of Bring the Fire Project. Half exprecting a bunch of students off their heads since last night, I couldn't have been more wrong.
On entry guests were greeted by "Wake-up Angels" providing free massages and yoga sessions. A raw juice bar provided locally sourced snacks at additional cost, whilst organic coffee and face painters were on hand if, forgivably, you weren't in the mood to rave at 6am.
Entertainment included interactive drumming hosted by the HeartBeat Community, costumed performers and of course, a pumping dance floor. There were ravers of all ages, and it was particularly refreshing to see several young parents with babies in tow (finally, a good use for those battery-free alarm clocks you often want to chuck out the window). It's also a great event for party people stuck working awkward hours. A stranger handed me a decorative note saying 'Be the person you'd like to meet', which stayed on my wall the rest of the year.
After Episode 1, I arrived home high on life then promptly passed out, though if my body clock had been working like a normal human's/not a student's, I'm sure I would have been full of beans for whole day. I felt refreshed; there had been no drunken dramas, I hadn't needed to drip dry on visits to the toilet, I wasn't already dreading checking my sent texts. Everybody had been in the moment, and it was genuinely the mosr fun I've had in the city.
Episode 8 will take place at our beloved Kazimier and promises to be the biggest installment yet with Greg Wilson headlining. With a neon theme doubling as a Kazimier honouring ceremony prior to is imminent bulldozing, for the duration of Wednesday's event from 6:30am to 10:30am delights such as free hand massages by Lush Spa Liverpool, live performances by Jula Hoops and the Liverpool Faeries, and puppetry for little ones by the Mr Wolf Collective will make it a morning to remember.
Although it was a mission to get myself out of the door by 6am for Episode 1, and I've not dragged myself out of bed since, Wednesday should be a little easier on the soul thanks to my new house being on Seel St (if I struggle I can pretend I'm in Melbourne where it's night-time). My new holographic skirt, LED lights and neon face paints are at the ready, and the energy drink – baby steps.
Tickets available at http://mgliv8.bpt.me/